Lots of Things to Do in Santa Monica when you are in the city. The City of Santa Monica has a storied past, a who's who and what's happening present and a bright future.
The beachside city in Los Angeles is home to movie stars, oceanfront estates and vast areas of natural beauty. Santa Monica is quickly become the go-to tourist destination on the southern coast of America. Here's a quick guide of what-to-do if you find yourself lucky enough to be visiting this sparkling city anytime soon.
Santa Monica Beach:
First and foremost, let's talk about that beautiful stretch of white sandy beach that beckons just bluff of Ocean Boulevard. Santa Monica Beach Known for years as the go to destination when Hollywood gets too hot. Santa Monica Beach boasts not only miles of gorgeous sand and tame waves. It is also a smooth bike path that travels tens of miles along the coast. This location alone will give you days of to-do, but don't relax too much in the sun. There's more to Santa Monica than this famous beach.
Muscle Beach/Venice:
Just a short bike ride or spirited walk down the bike path to the south. You'll discover the world renown Muscle Beach and Venice Boardwalk. All types of craziest gesture for your money here: you'll find fun houses, culture, art, trinkets, great food and bars. You'll also see Muscle Beach, where Arnold used to pose and posture long before he became the terminator. Today, you'll find a whole new generation of Bavarian body builders continuing the tradition. If you have time, reserve a paddle tennis court, strap on your sneakers and hit a few balls. This unique to California sport is like a miniature game of tennis; although smaller it more than makes up for its size.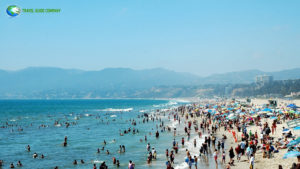 The Pier: Located at end of historic Route 66, the Santa Monica Pier first came into prominence way back in late 1800's. Named the fun pier back then, the fun part has never come out of its being. A huge Ferris wheel anchors the rear of the pier while a fun rollercoaster and merry go round sit amid carnival games and kid rides at the front. There are plenty of restaurants and fine dining as well as circus performers and shows at night to entertain you. All of this taking place 35 feet above calm Pacific water and giving view back towards sprawling city of Angels. The name of the attractions at the pier is Pacific Park.
Third Street Promenade: Behind Ocean Boulevard, running parallel to the stretch of beach, lays the Third Street Promenade. After fresh coat of paint or back in 1992, Third Street Promenade has quickly become go to destination for tourists. Alike to catch a movie, a bite to eat or find that perfect pair of gift. There is almost every conceivable brand name store among the 2 mile stretch of shops. And there are no vehicles allowed on Third Street; it is a true pedestrian destination.