Occidental Punta Cana, Dominican Republic is a vacation destination unlike any other. Where more traditional tourism hubs like Cabo or Cancun were somewhat gentrified prior to their current and more glamorized state.
Punta Cana was scarcely a third-world city before it was seemingly conquered and converted into mass of hotels and attractions and all-inclusive beach front amenities. Likewise, vacationing in Punta Cana is confined to the resort; they are sprawling and lapping over into one another. The chance of you doing anything absent of a Punta Cana resort affiliation is fairly slim. To combat any cabin fever that could transpire as a result of keeping cooped up in your hotel. When an opportunity to escape the shackles of an otherwise relaxing vacation emerges, you take it, and you embrace it. El Cortesito Flee Market – Right on the beach and offering traditional Dominican textiles and food.
Places to visit in Punta Cana:
Money-not that you haven't already extinguished enough of it by the time you actually make it to Dominican. But we spend it, regardless, even while on vacation, and there are plenty of shopping centers in Punta Cana. It will happily accept your money. While much of what you find there can typically pick up elsewhere, some are unique to country and its culture. Artesany Center – Offers everything from hammocks, crafted before you, to Guayacan wood pieces, to live shows. The Artesany Center inhabits natural Dominican atmosphere and the crafts sold there are typically authentic and native to country. Plaza Bavero – the Largest shopping center in Punta Cana. A diverse store selection populates premises, ranging from drug stores to campy souvenir shops. Plaza Punta Cana – A smaller bank of stores, situated across from the Occidental Flamenco. It offers an eclectic sampling of the country's culture and its various exports.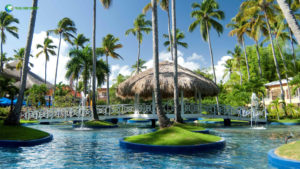 Ocean Blue Punta Cana:
A favorite budget-minded resort in Punta Cana is the Ocean Blue resort and golf course. Not only will you have access to some beautiful Caribbean beaches. You can enjoy two pools, poolside bar, children's activities, free Wi-Fi access in the lobby and diving or water sports. There are plenty of options for entertainment at this top Punta Cana resort. This hotel offers 708 rooms, which include deluxe and honeymoon suites. Speaking of honeymoons, Ocean Blue has great wedding packages available as well. You book a privilege suite for seven day or seven junior suites for at least four days. You can receive an all-inclusive wedding package free of charge. Imagine saying your vows in a lush tropical paradise for little more than cost of rooms for your wedding party.
Occidental Grand Punta Cana Resort:
Gorgeous landscaping, three huge pools, coconut palms and sandy beaches are just a few of the amenities. You can enjoy at the Occidental Grand Punta resort and hotel. This location is perfect for families who want to vacation together or adults who are looking to play. There is a little bit of something for everyone at this tropical resort.