Places to visit in Puno
One of the most important and attractive departments in Peru is definitely Puno. It's located in the PeruvianAndes. Its architectural art makes this place unique; the design was inspired in the colonial era.
Punois a cultural and traditional destiny; in every city you would learn about the history of this place so if you are a Peruvian culture fan you must visit Puno.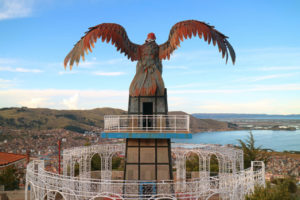 Main square
If you come to Puno you must visit the Main square because this is the most popular place in here. The infrastructure in the streets highlights the beauty of this site, the monuments show us the history and all the tradition about this department.
This square has changed with the past of the years, years ago it was a fountain in the middle but on 1925, the fountain was changed for a monument of Francisco Bolognesi.
Here you'll find traditional restaurants, cafes, markets, hotels and shops where you can buy souvenirs. There are many places you can visit and a lot of stuffs you can buy if you want to buy a souvenir.
Cathedral
This place was built between XVII century and XVIII century. It took more than 80 years to end the construction but a lot of people say that it was delayedat least 100 years to finish the church.
On 1965, Pope Paul named this Cathedral as Cultural heritage of the nation.
In the walls you could see human figures, flowers, mermaids and more stuffs about the Peruvian culture, all these figures were made by craftsmen. More than religious this is an historic place for all the people who lives in Puno.
This Catholic church is located in the Main square and it's a free option to go when you are in Puno.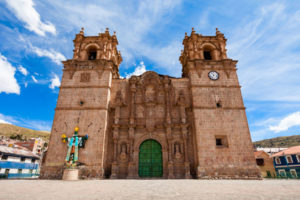 Titicaca Lake
The highest navigable lake in the world, with an altitude of 3812 meters above sea level. This lake is located between Peru and Bolivia.
This lake is legendary because one of the most famous legend say that in this lake Manco Capac and Mama Oclloborned and created the Inca empire.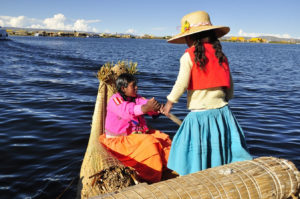 Sillustani Funeral Towers
This is an archeological site that you need to go in your visit to Puno.
Sillustani is known as "The funeral towers", in these towers people buried noble persons, this was a kind of coffin, the death body was buried with their personal stuffs, food and ceramic pieces. At least there are 90 burial towers.
There's a museum where you can learn more about this chullpas (burial towers), the beginning of this traditional ceremony and more things about Puno's culture.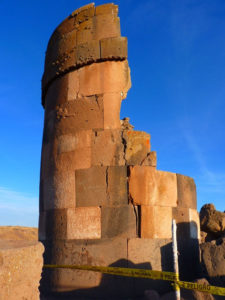 Carlos Dreyer museum
If you are a big fun of museums you need to visit the Carlos Dreyer Museum, this is a perfect site to remember and learn about this man. Dreyer was born in Germany but he moved to Peru, specifically in Puno, he lived near to the Lake Titicaca for more than 30 years. He spent his life making ceramic figures and creating Peruvian art. This was actually his real job and he lived from it.
Here you'll find many halls, every hall is different from the others. Some of names of the hall are Hall of Inca, Hall of lithic gallery, Hall of regional archeological and Hall of colony are the most important.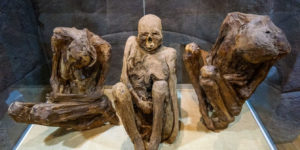 Deustua Arch
This arch was built in memory of the brave soldiers who fought in the Battle of Junin and the battle of Ayacucho. In the first place, this arch was called Independence Arch because is located in a street with the same name but then they changed the name, putting the last name of the Gerenal Deustua to the building.
The inhabitants of the city were in charge of the construction, next to them was General Deustua. This arch was named Cultural Heritage of the Nation on 1980.
In this place people celebrate many festivals, one the most important is the payment to the earth before the Festival ofVirgen de la Candelaria, this religious festivity is on February.
Puno is one of coldest places in Peru so you need to keep you warm, if you forget your winter clothes or you want to wear a Peruvian garment you have to check it Tinkuy, here you will find many things that could wear during your visit in Puno.